Manuals
How to Install
---
Screen Components
1. Speech translation screen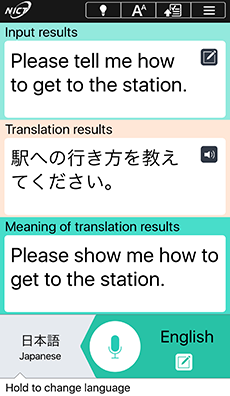 The input results, translation results, and reverse translation results (meaning of translation results) are displayed, in that order.
To edit the input text, tap .
Tap to listen to the speech output again.
To expand the result display area, swipe right/left in each field.
The translation results are translated back into your own language and shown in the reverse translation display area (Meaning of translation results). If the text shown here has the same meaning as your original input, the translation results are considered accurate.
The text displayed in the 'Translation results' can be copied by double-tapping or holding down the text field.
2. Other settings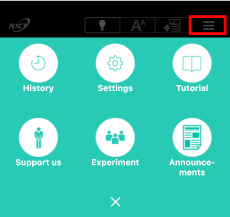 To display the settings menu, tap

at the top right corner of the screen.
3. Language settings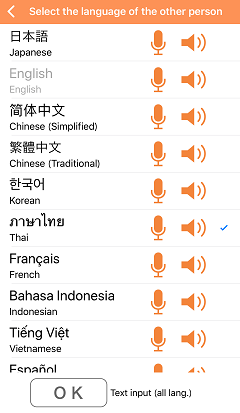 Select the languages to translate between.
On the main screen, tap

on the bottom left or hold down the target language tab to display the language selection screen. You may also go to

→ 

→ "Language Settings" to display this screen.

The selected language should be marked with a 'check'.
The screen components are indicated in

[green]

when selecting the input language (your language) and

[orange]

when selecting the target language (the language you wish to translate to).
Key to icons
…Speech input
…Speech output
Operation Method